Reverse Image Search- As online user, what it is? Will be the first asking. We know lot of images using each moment around the world web. How can you confirm images you are using not copied and it's not an unethical uses? Solution Reverse Image Search. A method/technology Reverse Image Search takes image as input query and find the placed images within the whole net world, result from the exact match as well as similar match including existing image link.
Now the point, why we need image search!
You may need to know the originating source of any image due to several reasons.
As online activist – sometimes need to ensure uniqueness of image.
Copyright issue, before use a collected images, need to check it.
Whether your image used online or not? How to check solution image search
Lot of products introducing each day , to find its source reverse image source would be great way
Every digital marketer need fresh high resolution image, so need to find higher resolution images that is different version.
Now fact is how will get good quality image search result in against off given input , it's a modern technology , many website providing this support among of them Google is the best in every respect , as well there are few more who are providing various benefit on search it . Here is a list.
Google:
The world web dominator google image search the most advanced searching algorithm as well as user interface. How you will use it:

Click on photo icon and upload image to search or image url if search item online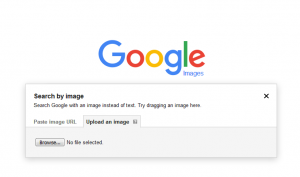 Now get the searched result
Yandex:
A latest search engine in web , they are doing good as well as providing fast outcome. Yandex have several types of search criteria 'image' is one of them.
Just go to www.yandex.com and click on the image icon or you may go directly to https://yandex.com/images/

Click on circled icon

Now click on search icon and get option to input desired image to search and enjoy the result along with the link.
Tineye:
Specially this search engine designed for image search. The url of the website :

Seowagon:
A website to facilitate to the digital marketer as well as to any kind of online activist , providing many seo tools also a tool for Reverse Image Search.
Here you will have chance to get test of different type of image search, ease to use and very good user friendly interface.
Have a test www.seowagon.com or directly http://seowagon.com/reverse-image-search , now click on reverse image search icon.

Search your desired image, insert image url or upload input image. Seowagon facilitate the search using three king search engine Google,Yandex and bing.You have options to select your desired one.