What Is Google Reverse Image Search Engine?
Google has an advance search option called Google Reverse Image Search (GRIS) for the image. Search an image don't only by its keyword. GRIS note required keywords, instead of this put an image to search an image. You can find any image by an existing image from millions of web images. Google have the world largest image database. At 2011 google introduce their new search option by image known as Google reverse image search engine.
How GRIS Works            
It is very simple to use.It works in 2 ways.Search similar image with the existing image's web URL and secondly drag and drops any size of the image into GRIS search window from your computer or mobile or tablet. At the next step, just tap on "Search" and google will show you all the related websites that have the related image.  Both ways work equally good. Most of the time a group image visually appears on your monitor according to your image.
But Google reverses image search engine not showing only that the images you are looking for. There have a lot of unnecessary images shown visually.  GRIS use algorithms based on various attributes like size, shape, resolution and color to get the similar pictures.
Google image has no limitation of file size or type, in the meantime, it is totally free for the user.
Best Ways to Use GRIS from Mobile:
In the modern search technique, you can find your targeted images or similar images by uploading images to Google reverse image search engine from your Desktop or computer. But unfortunately, there is not such option for uploading or posting a link to search related image from mobile/smart phones until now. But you can manage this by using some technique and 3rd party software.
You can find your similar image from your phone by using Chrome apps. It is now available only on (Chrome and iPad/iPhone).
4 Methods of Search Image online through Google reverse image search engine:
I already mentioned some advantage of GRIS out of tons of advantage. But it performs in different ways, let's take a look.
Method #1: Search image by uploading images from Your PC
Method #2: Drag and Drop images from your PC to GRIS window.
Method #3: By using right click on an image (Chrome and Firefox only)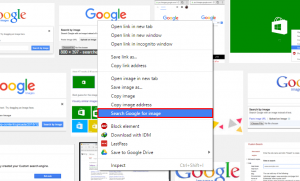 Method #4: Using Image URL for GRIS
Pros and Cons of Google Image Search engine: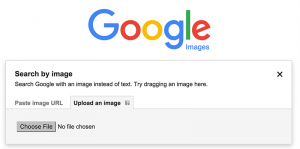 Image search is one of the advanced search options for the internet giant Google. But still, there has some limitation besides of its tons of advantages. Here is a list of some Google Image Searches Pros and Cons;
Pros:
It is very easy to use and one of the popular image search Engine.
It searches image very quickly and user-friendly
Allow sorting option like size, color, face, black and White, image type.
Google reverse image search engine is very useful to verify Whats app and Photographs source file.
Cons:
GRIS uses text (your search terms) to search for images.
Google works with makes a guess that the words are related to the image.
There is no standard meta data with images.
Google searches for the existing images in the filename of the image or the URL pointing to the image
The images acknowledged by Google might be protected by copyright.
Without viewing the search image on the web Google cannot grant you any rights to use images for any purpose.
Accordingly, you much contact the site owner if you would like to use any images found through Google.
There are other images, held within databases that Google is unable to index.