Today's web world, an eminent threat is plagiarism – what it is! An expert gives him a lot of time and experience to make an original content, where a theft just copies it and change some wording and title using at his own name, as well as publishing on the website. What a dangerous thing, this thing decreases the wailing of writers to create a majestic content for his viewers and readers.
Need to prevent this type of dangerous people, not only this; you definitely want to reach your site or content on the Google first page of search result where content is the king in web and for Google, so plagiarism is the real threat.
What to do! You have to write your content; you will find few powerful checkers online to check plagiarism. Seowagon providing one of the best tools to check plagiarism so write and check is its existences any corner of the web world.
This tool Plagiarism checker online search everywhere on the web globe, how it works.
How we can prevent and detect Plagiarism
You owned a website and trying to make your site more valuable – where Google saying content is the king, what should you do! You need to be confirmed your content is 100% unique that you are going to use. Seowagon providing you the best service in free , you can be professional or student no matter the marvelous tool always in support for you to create full unique content.
The largest content store is online – how we can prevent, at least we can make a copyright sign and use it within your published article. If you get something copied online by you, surely you can take some steps on it.
How we can find the plagiarized content, solution at your fingertips , there are several plagiarism checker online , just copy your desired text and check instantly it will provide you the result , if found in the web world will show you along with the link where you text in placed.
There are free services as well as few premium services, seowagon one of them providing free Plagiarism check service. It works as follows: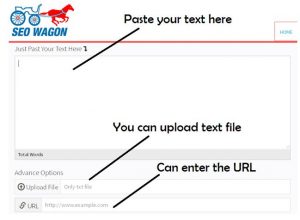 Very simple to use, paste the text and check, you can do some advance operation also, upload text file or insert URL, the system grabs the text from the file or url that provided and will check through the world and display the result.
Result of checker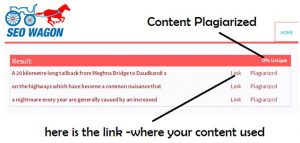 As shown the result the content is plagiarized, output also displayed the link where the text used.
Few premium plagchecker, enable you to set your content if any one use the content you will be notified and can take action. Such kind of premium checker Copyscape. Create a account and buy some premium support they will alert you about your valuable content.
** Link to copyscape- http://www.copyscape.com/
What Action you can Take:
Surely you can take actions to offending site or blog. Here are some links where you will get information and what to do against the culprit:
http://www.checkforplagiarism.net/plagiarism-law
https://www.quora.com/What-legal-actions-can-be-taken-against-research-paper-plagiarism
http://www.fresnostate.edu/academics/facultyaffairs/documents/apm/235.pdf