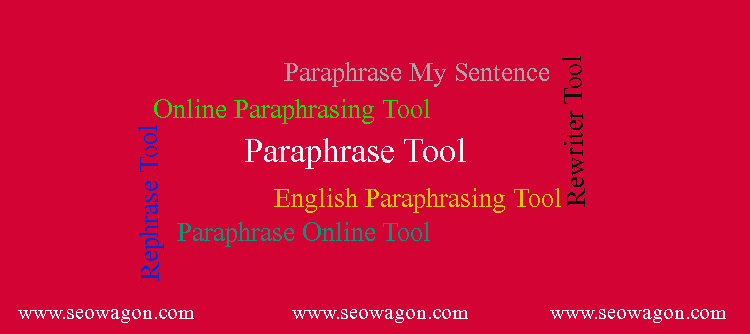 Rewrite your Articles with Ease with Paraphrase Tool
Bus Ticket Booking System
Paraphrase Tool
Have you ever found yourself needing to rewrite an article but found yourself short on time? With this amazing paraphrasing tool, you can take an article and create an original, fresh, plagiarism-free article with ease. Everyone who does writing work on the internet may need t rewrite content once in a while and now you can do so easily.
Rewriting is not always an easy job. You have to maintain the original meaning of the article while at the same time making sure that the rewritten article is different from the original one. The process can take time and effort and you may even have to pay someone to do it for you.
How Does the Paraphrase Tool Work:
This free paraphrasing tool can help you rewrite your articles in no time.
The process is very easy.
Copy the article which you want to be rewritten and paste it into the designated space.
Click on "rewrite"
You will see the rewritten text appear.
In this text, the algorithm of this paraphrasing tool takes words from the original text and replaces them with synonyms. As a result, an original article is formed.
You will see that each rewritten word appears in colors. Different bright colors are used, to make it easy to detect the words which have been replaced.
If you click on a word that has been replaced, you will get three options. You can accept the replaced word, or you can reject it and keep the original word. The third option is that you can enter a word of your own.
You should go through the entire document once.
Now you can accept this rewritten text.
Alternatively, you can also click on rewrite again. This will produce another rewritten copy of the original text. You can do this if you do not like the first rewritten version.
Once you are done, you should copy the rewritten text and paste it wherever you want.
Don't Forget:
Do not create multiple rewritten copies of the same article. This is actually bad for SEO purposes.
Always read the whole article once before accepting it. Although the paraphrasing tool does its best to replace words with synonyms that look fine in context, you should still read the whole document once to see if it works out fine and looks grammatically correct.
Benefits of Using Paraphrase Tool:
The program is free to use.
Results are very rapid. The only time taken is when you need to read the document and accept or reject the word suggestions.
You can rewrite the document many times until you get a result you like.
The tool saves a lot of time and effort on your part.
It is good for Search Engine Optimization (SEO) purposes.
If you find a topic you like online and you want to reproduce the content while still making it original, you can use this tool with ease.