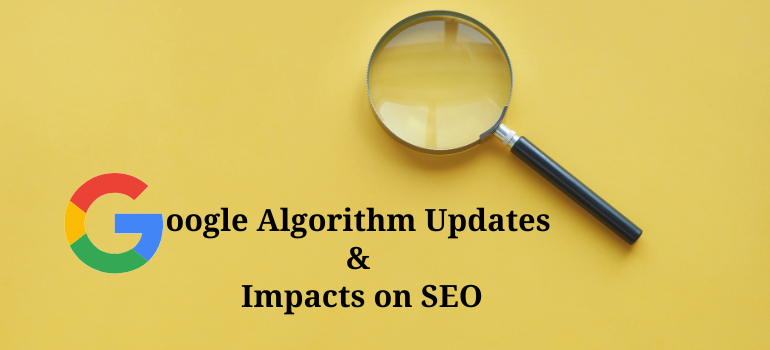 Google Algorithm Updates and Impacts on SEO
Bus Ticket Booking System
Popular search engine Google keeps rolling out algorithm updates all the time. Google uses complex sets of algorithms along with various ranking factors to optimize the search result so users can find answers to their queries easily and quickly. Relevance is the focal point here; and relevance keeps changing over time, so, Google has to make changes within its system to keep the results as relevant as possible.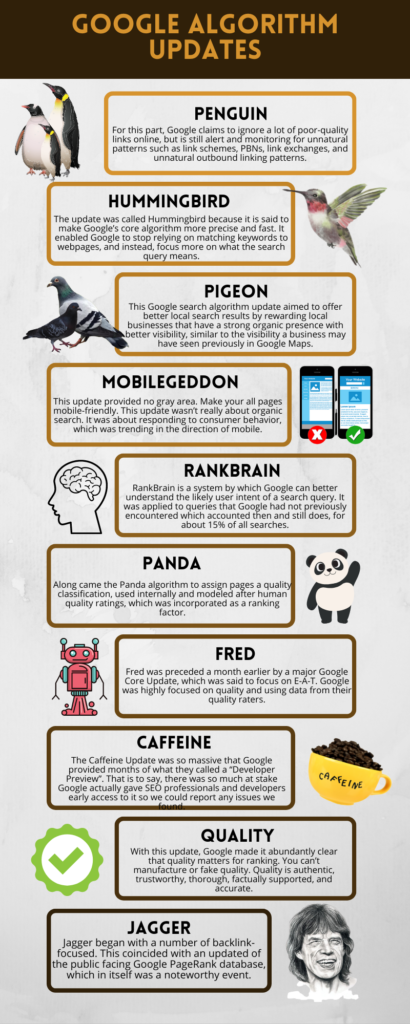 | | |
| --- | --- |
| Google Update Name | Update Date |
| Link Spam Update | December 2022 |
| Helpful Content System | December 2022 |
| Spam Update | October 2022 |
| Helpful Content Update | August 2022 |
| Core Update | May 2022 |
December 2022 Link Spam Update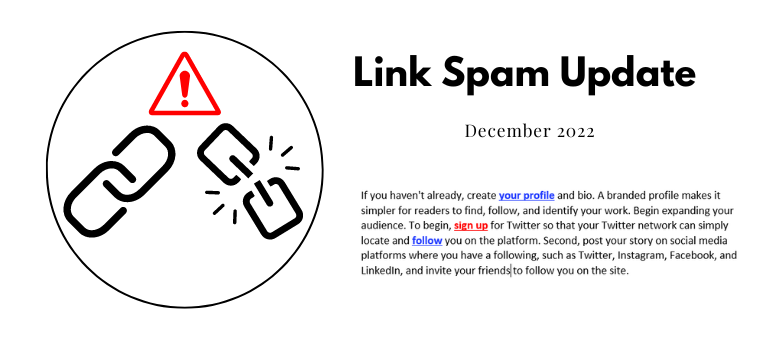 Just after a few days after releasing the Helpful Content System update, Google delivered yet another update on December 14, 2022. This time its called Link Spam Update; it will take about 2 weeks to fully roll out.
Let's find out more about this spam link update
Target
As the name suggests, the Link Spam update is about to target online websites that contain unnatural, unrelated links. This updates main goal is to prevent spam links from leading people to irrelevant or possibly suspicious pages.
Impact on SEO/Penalty
Once the update becomes effective, sites containing spam or suspicious links are most likely to be demoted in the SERP so they don't appear on top of the search result.
Google Ranking Factors For SEO
Recovery
If you notice any setback in your website's SEO in the incoming weeks, it could be because of the negative impact of the Link Spam Update.
You can recover your site by removing irrelevant or broken links from your website's content.
Check if your link is broken here
Google's December Helpful Content System (Second Part of The August Update)
Create Better Content Than The Original
Google officially launched a new update called Helpful Content System on December 5th, 2022 which went effective starting from 6th December. This latest update is the second major installment of August 2022's Helpful Content Update. This time, the update is going to be effective globally, not for the English language only as it did in the last update.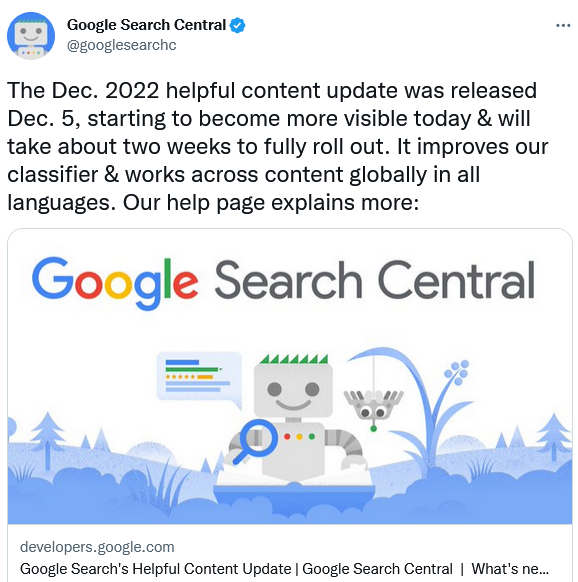 Target Content
On December 6th, Google Search Centrals Twitter page, posted – The Dec. 2022 helpful content update was released Dec. 5, starting to become more visible today & will take about two weeks to fully roll out. It improves our classifier & works across content globally in all languages.
This update is likely to demote those content that is created only for SEO purposes rather than for users sake. So, websites loaded with keyword-based content will get the axe, and content that is really helpful to the users will get a higher ranking as an impact of this update.
The updates main goal is to help people find the most relevant content based on their searches.
Penalty
The most likely victim of the Helpful Content System are being websites that contain mainly SEO-driven content rather than audience-driven content. Keyword-loaded, unhelpful content will see a setback as other more helpful content will rise to a higher position.
Recovery
If you have noticed a lower number of visitors in your sites SEO analytics in the past few days, your website has most likely been hit by Google's latest update. You can recover from this setback by removing unhelpful content from your site and adding substantial, truly helpful content.
Google's October 2022 Spam Update
A Guide To Transforming Yourself Into A Professional Content Writer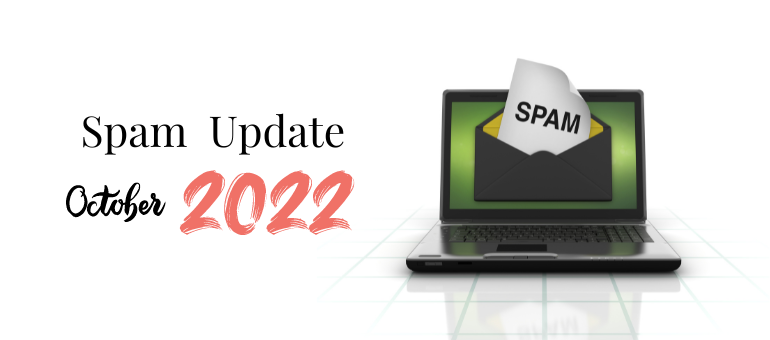 Google has rolled out the latest spam update that began on October 19, 2022, and finished on October 21, 2022.
Released the October 2022 spam update. This update is global and affects all languages. The rollout was complete as of October 21, 2022. Google announced in regards to the two-day-long update.
What is a spam update?
Google uses automated systems to detect spam. The leading search engine is always improving its system with various updates called spam updates.
As there is always some new kind of spam trying to fowl-play with google content and their rankings, from time to time, Google twerks the system to deal with the spam.
Previous spam updates
Previously, the most recent known Google spam update was in November 2021. Google also published a two-part Spam Update in 2021, on June 23 and June 28, as well as a link spam update in July 2021.
Target
The spam update targets specific content guideline violations. If you see a significant change in your website's ranking over the last week, it is most likely the result of the spam update.
What to do if your site is negatively impacted by the spam update?
If your website is affected by the latest update, it's time to review the content of your website and correct the issues that might have any spam connection.
Google's August Helpful Content Update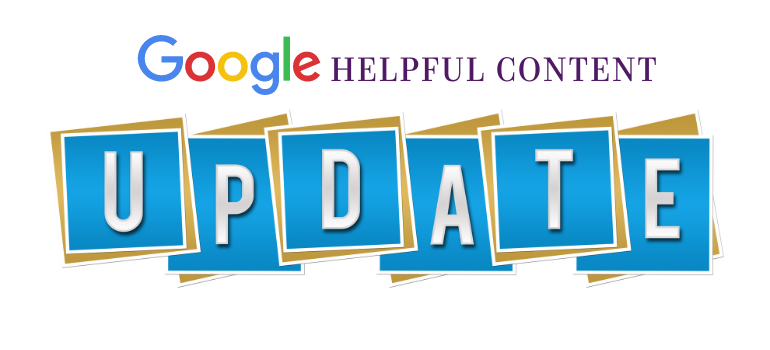 Google has rolled out its August 2022 update starting from the said month's 25th. The update is called Google Helpful Content Update and took about two weeks fully roll out.
Let's find out more about this update below:
What are the targets of this update?
Typically, this update is done to impact the content in Google Search to help humans search and get relevant content easily.
Limitation of the Impact
Currently, the update is limited to impact Google Search only. Google Discover, or any other Google surfaces. But it can be deduced that the impact might spread out to Google Discover in the future.
9 Essential Writing Tips for All Types of Writers
Content Language
Language-wise, this update is currently targeting English-language content but might cover other languages as well.
Penalty
Although no penalty has been officially mentioned, the update itself seems to be a penalty for websites containing thin content.
Recovery
The only way to recover from the setback caused by the update is to review your website's content and create credible, informative content.
How much time will it take to recover from this update?
There is no specific timeline, but if your website is affected by the update, it might take several months to recover from that.
4 Common Grammatical Errors to Avoid While You're on the Internet
Is it a core update?
No, it is not a core update but it is a huge update.
Impact Area: since this is a sitewide update, it will impact the whole website.
May 2022 Core Update
Google rolled out a core update on May 25, 2022, which took 15 days to complete.
Let's see what this update brought and how it impacted the sites.
Initial impact
Like any other Google update, the May 2022 Core Update shook the sites as well. According to the data, this was a significant update that was quickly implemented for many of the queries tracked by the data providers. After the initial update, we saw some sudden shifts in the SERP (Search Engine Result Pages). The largest tremors occurred around June 5th, and those should be the final sets of aftershocks seen from the initial broad core update release.
Google Plagiarism Checker to make your content unique
Impact on SEO
The core update in May 2022 appears to be far more significant than the core update in November 2021.
Unlike the November 2021 core update, which was released during the busiest online shopping season, this update was released at a much better time for retailers.
What changed with this update?
As usual, something has changed with this update whether you notice it or not. And since Google doesn't really give much information on these broad updates, estimating is the best thing to do.
But one thing is sure, something does change and it can be hazardous for your site if you are not careful. Having said that, these updates also come as a boon for many sites. It is all about how the changes react to your website content.
As far as any Google core update is concerned, Google Webmaster-Trends Analyst John Mueller stated, according to Search Engine Land, "When we announce core updates, we start the rollout at that point, not beforehand."
5 Best Free Backlink Generator Tools You Should Know About
And broad core updates are typically rolled out over time. So any noticeable differences in website traffic from late May to mid-June can be attributed to this new update.
Why should we care?
When Google modifies its search ranking algorithms, your site may perform better or worse in the search results. Knowing when Google makes these modifications provides us with a reference point to determine whether it was anything you updated on your website or something Google altered with its ranking algorithm. Google launched the May 2022 core update on May 25th, and it is now complete; it is now time to delve in and explore how your site(s) performed with this update, and to take the required actions to continue to improve in the future.
How to handle the update?
Although Google doesn't offer any specific solution if your site gets hit by a core update, it does offer a list of questions that might help you recover from the shocks.
---