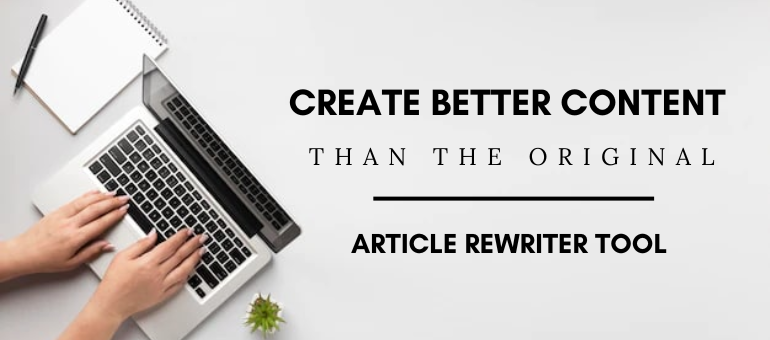 Create Better Content Than The Original | Article Rewriter Tool
Bus Ticket Booking System
As an online writer, I often feel frustrated over not being able to deliver a unique idea or my best performance. The only thing that helps a bit is that almost every other writer feels the same way, and it feels a bit good that they share my misery. However, we are not completely hopeless; it is possible to create better, improved content, possibly with the help of an online article rewriter tool and some tricks.
Let's find out how to bring out something better and fresher from your old content.
Article Rewriter Tool
An AI-based writing software might not sound like a good option for recreating improved content. But what do you know, some rewriting tools might surprise you.
If your question is whether you can or cannot create human-friendly content with a rewriting tool, then the answer is - Its possible to create improved, even better than the original content with an AI-based tool.
Word Rewriter Tool | How to Produce High-Quality SEO Content
But first, the rewriter tool must have the following attributes
Human brain-friendly text
Being able to generate human brain-friendly content is the most essential quality of an ideal article rewriter tool. The tool you are going to use to recreate articles must not produce out-of-context synonyms or sentences that are difficult to understand.
Guarantee of uniqueness
Plagiarism is one of the biggest issues in content writing. So when you are going to use rewriter software, make sure it provides unique, plagiarism-free content.
SEO-friendly
When you're writing content for an online audience, you will need to be careful about a few things SEO-friendliness is one of those essentials. Search engines like Google will crawl your content and check whether its user-friendly, informative, and obeys the rules of SEO or not and then ranks your content based on the analysis.
Consistency
Here, consistency means whether your article rewriter tool maintains the same quality while generating paraphrased content or not. Make sure you get high-quality content whenever you use your rewriting tool.
Grammatically correct
Grammar is a very important aspect if you want to create flawless content. Ensure there are no grammatical mistakes or spelling issues in your AI-generated content.
4 Common Grammatical Errors to Avoid While You're on the Internet
How to improve original content
Along with using an article rewriter, you can tweak your content here and there to create a unique and improved effect.
9 Essential Writing Tips for All Types of Writers
Here's how to improve your content –
Rewrite the heading
The contents heading is the first thing a reader reads. So, your contents heading should be catchy, relevant, and appropriate. No matter how good your old heading was, you can always improve by tweaking it a little.
Update your keywords
You can use your recycled content to smartly rank your sites keywords.
For example, suppose the focus key phrase in your old content was article rewriter tool. And now you want to rank a different but related keyword such as rewriting tool. You can replace the previous key phrase with the new one in the paraphrased content.
Fix grammar issues
Fixing grammatical issues can improve your contents ranking by a huge margin. So, review and edit your content before or after placing it in an article rewriter tool.
Bottom line
It is possible to create an improved version of your old content with a rewriting tool. You can get the best result if you can find the right rewriter tool and follow the little tricks along the way.